N738SE is finally done and ready to go. Thank you for your patience!
We are excited to announce the completion of a major upgrade to the avionics equipment as well as a new paint job and a new windshield. We think you'll really like it.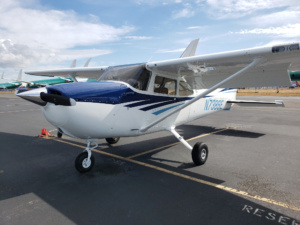 We've added the following avionics: 
Garmin G3X Touch 10″ Primary Flight Display (PFD)
Garmin G5 Standby Instrument
Garmin GNC255 Nav/Com Radio
Garmin GFC500 2 axis Coupled Autopilot with Electric Trim
Additional instrumentation is located in the left side of the PFD are; Tachometer, Fuel Flow and Quantities, Volts/Amps, Oil Pressure and Temperature, Engine CHTs and EGTs.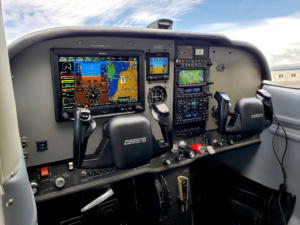 N738SE is now categorized as a Technically Advanced Aircraft (TAA). 
It can now be used for your Commercial Pilot Certificate. You can also use it during training for all other pilot certificates and ratings.
Here are some videos to watch and become familiar with the new avionics:
     Garmin G3X Training:                 https://www.youtube.com/watch?v=m1ylNkG1x1A
     Garmin GFC500 A/P Training:      https://www.youtube.com/watch?v=R-DDw6k-07M
     Garmin G5 Training:                   https://www.youtube.com/watch?v=pywscB0Le7Q
     Garmin GTN650 Training:            https://support.garmin.com/en-US/?productID=67884&tab=videos
Aircraft Checkouts – If you are checked out in N5512E, you are good to go in N738SE. Just get a quick CFI ground briefing on the use of the electric trim and disconnect operations. Both aircraft are priced the same.
If you are not checked out in the G3X, here's what you'll need to do:
Aircraft checkout requirements will depend on your specific use of the aircraft (VFR or IFR) and any previous glass cockpit experience.
After watching the above training videos, you will schedule your ground in-aircraft familiarization and practice session with your CFI. 
You will then complete your VFR or IFR in-flight checkout until you and your CFI are comfortable with your operations of the avionics and aircraft.
That's it for now. If you have any questions at all, either give us a call or email us back.